How long can cocaine use be detected in your system?
Cocaine can stay in your for system up to three days, and can be detected using different methods, including by urine tests.
What Is Cocaine?
Cocaine in a highly-addictive substance derived from the South American cocoa plant. It can be injected, snorted, or rubbed on the inside of the mouth. 
Depending on the method used, the outcome may vary as a result of how the cocaine affects that part of the body.
You can check for cocaine by taking a urine, blood, saliva, sweat or hair follicle test.
How Do They Test For Cocaine, And For How Long Can Each Method Detect The Drug?
A urine test can detect even the slightest amount of cocaine in your system. How quickly it will show up will depend on how you took the drug.  It commonly takes anywhere between four and 10 hours to detect if you snorted the cocaine, whereas if it was injected, it can show up after 20 hours or more. In certain methods of testing, it would take up to a month.
A blood test varies in time as well, and can show cocaine traces within minutes of a person taking it, up to hours after the initial ingestion. Although expensive, blood tests are most common, as they are most accurate in a short amount of time.
The least expensive test is the hair follicle test. Its other benefits are that it's non-invasive to the patient, and a large quantity can be taken for further tests - should there be a need to do so. The detection period for this particular test varies from as much as a month to as little as eight hours.
The quickest method is the saliva test, which may be administered right after the person has snorted the drug. The result, however, can take up to two days.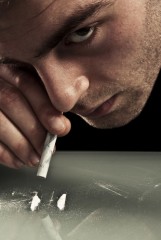 The sweat patch test can be taken up to four hours after initial drug use. However, this test is the least favoured by doctors, due to its unreliability and margin for error.